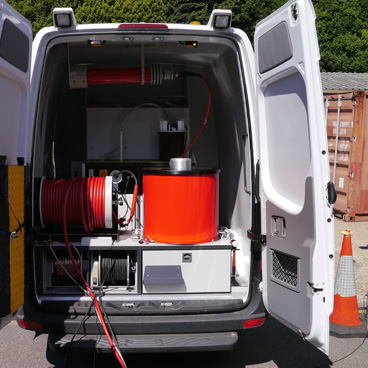 The good care and life management of cables, of which cable testing figures prominently, can significantly improve a utility's reliability indices. Therefore, a lot of attention is paid to this large subject.
As a means to organise what amounts to quite a bit of subject information, cable testing can be separated into categories reflecting the end goal, including:
 

Cable testing to prove the serviceability of the cable

 

Cable diagnostics to assess the cable's integrity/health and thereby predict its long-term viability

 

Fault location to efficiently locate the specific failed part of the faulted cable
Cable testing and diagnostics
Cable testing and diagnostics may provide information about the cable's global condition (e.g.,  the cable's overall insulation system), and/or reveal localised problems, such as poor splices, terminations, or a specific, localised weak spot in the insulation. High voltage cable tests are carried out to spot any potential failures before they occur and cause disruption to the network.
Megger cable test equipment provides access to all of the information needed to make informed cable management decisions through the stages of the cable's use, including:
 

After new cables have been installed to reveal any faults that may have been caused by transportation or installation

 

Following repair in order to reveal any additional weak points in the insulation other than at the fault repaired

 

Following repair to monitor the quality of the repair

 

Throughout the life of power cables, such as old PE/XLPE insulation cables to assess aging, particularly water-tree weak points
There are a variety of test methods that may be applied to high voltage cable. The most appropriate cable test will depend on factors such as cable type, the end goal of testing, and when you are testing.
Cable test equipment
Cables are a large capacitive specimen so cable test equipment can get quite large in order to meet testing requirements. Megger's cable test solutions are comprehensive with a focus on portability, usability, and reliability. Our experience in testing and knowledge of cables and cable test methods fuel our designs, resulting in best-in-class and most efficient solutions.
For example, our revolutionary TDS – NT unit is a unique combined cable testing and diagnosis system that can be used to test cables to international standards. The system uses CR and damped AC waveform, which is the most effective way to test for PD. Both waveforms give results comparable to power frequency. Many other units on the market use sinusoidal waveform that in certain circumstances can give misleading results.
Our cable testers come with exceptional software that includes intuitive navigation and step-by-step walkthroughs. This means that PD testing can be done by linemen or technicians without a huge amount of training. With our software, testing is relatively easy to learn and interpret. The software that comes with our cable test equipment also has instantaneous reporting, which can save you both time and money.
Cable fault location systems
The cable fault location process has multiple steps and it's vital that it's completed as quickly and safely as possible to minimise the time that customers are without supply. We manufacture a wide range of fault location instruments that have been developed to be easy to use.
Several very popular Megger cable fault locator products, including the EZ Thump, Smart Thump, and T3090, utilise the "E-Tray" interface that is very easy to use, easy to train on, and easy to remember how to use. The EZ Thump in particular is very popular for its ease of use and portability. The E-Tray adds the unique capability to access and operate every function through an innovative and intuitive user interface without the need to make adjustments, and the software suggests the next logical step.
Why buy from Megger?
Megger is the pioneer in the cosine rectangular methods which makes the ability to test very long cable lengths practical. Megger has been operating for over 100 years and our SebaKMT brand has over 60 years experience in developing and manufacturing cable test and diagnostic equipment.
From the most compact reflectometers (TDR) up to customised cable test vans built to customer specifications, we offer our customers a comprehensive product portfolio for all imaginable problems. Take a look at our cable testing and diagnostic equipment below.